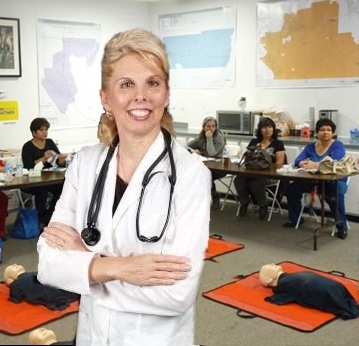 Welcome to our CPR and Health Coaching Training center. We teach American Heart Association CPR classes in our home offices in Englewood FL, (Sarasota/Port Charlotte, Punta Gorda area) near SCF, Dover FL (Brandon/Valrico area) near USF, and Sylva, NC (Ashville area) near WCU and Southwestern Community College.
If you are looking for CPR Certification or Re-certification, you have come to the right place! We are here to serve you and answer any questions you may have.
GET YOUR American Heart Association Course Completion CARD on the same day of training UPON SUCCESSFUL COMPLETION ! We've trained 100's of medical health care professionals, paramedics and nursing students for their hospital CPR certifications.
We also conduct onsite Corporate CPR training for your employees and members in your office, school, or place of work throughout the entire state of Florida. Selected dates in Western North Carolina. Contact us Now!
Click on "Registration" tab for your course dates and times
Training CPR courses 7 days a week
We do not cancel your class due to low student count
Course Listing
ACLS Initial class
ACLS Renewal class
ACLS Skills Session
PALS Initial
PALS Renewal
PALS Skills Session
BLS for Healthcare Providers
BLS for Healthcare Providers Renewal
BLS for Healthcare Providers Skills Session
Heartsaver CPR & AED
Heartsaver CPR & AED Skills Session
Heartsaver CPR AED & First Aid
Family & Friends CPR.
Course Overview
In the CPR training classes, you will learn in a comfortable environment to improve your learning experience with real-life experiences. All CPR courses we teach include rolling up your sleeves and practicing your skills, discussion and video, utilizing the American Heart Association student manuals.
You will gain confidence in your CPR skills so that you can apply your skill set to save a life.
Upon successful completion of the ACLS, PALS, BLS for Heathcare Providers, Heartsaver First Aid & CPR AED, Heartsaver CPR & AED, and Heartsaver First Aid course you will receive your certification card from American Heart Association that is valid for 2 years.
Check out our Calendar of Classess. Be sure to contact us to schedule your Heartsaver First Aid, CPR AED Skills Session class if you do not see it on our calendar.
Important Disclaimer
Note: The information and concepts presented on this website and in my coaching practice are for educational purposes only. It is not intended to diagnose, treat, prevent or cure any disease or condition. This site and my coaching are not intended to substitute for the advice, treatment and/or diagnosis of a qualified licensed health-care professional or physician's care.